Microsoft Windows Mobile 6 announced
Feb 12 2007 - 01:46 AM ET | 3GSM, Smartphone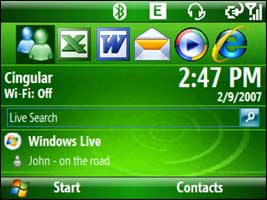 3GSM World Congress -- As expected, Microsoft has taken the wraps off of Windows Mobile 6, the next major version of its mobile operating system. The biggest addition to Windows Mobile 6 is increased support for Office and other Microsoft services like Windows Live.
Major new features of Windows Mobile 6:
More desktop like email. Messages now retain formatting and can contain photos inline.
Office documents look more like their originals and can be edited without deleting desktop formatting
Windows Live for Windows Mobile searches all the Live services (Hotmail, Messenger, web search, Spaces)
Call history is now contained in contacts to give some context
Tethering (using the phone as a modem from a computer) is now "one-click" easy
Improved sync support with Windows Vista
Devices using Windows Mobile 6 will begin shipping in the second quarter. The T-Mobile Dash will be the first US-based device to contain the new software. In an uncharacteristic move, current owners of the device (which is still shipping with Windows Mobile 5.0) will be able to upgrade to version 6.
---