Samsung UpStage announced by Sprint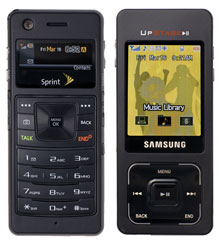 CTIA 2007 -- The Samsung UpStage is Sprint Nextel's latest effort in the expanding music phone niche. We first saw this handset at CES when it was called the Samsung Ultra Music F300, but since that was a GSM device there have been a few changes. The UpStage keeps the unique 2-face styling in an iPod nano-esque shape. Executives for Sprint joked that the name UpStage comes from Sprint's desire to steal Apple's iPhone thunder. Though the spec sheet shows the UpStage is not made to compete with a high-end product like the iPhone.
Features of the Samsung UpStage include:
EV-DO 3G data
Stereo Bluetooth 2.0 with spoken caller ID
1.3 megapixel camera
45MB built-in memory plus microSD card slot, 64MB card included
Petite size, 4.07" × 1.73" × 0.37"
Sprint Music Store for

OTA

downloads, new lower priced $.99 downloads
Sprint Music Manager application to load music onto device
Sprint expects to begin selling the Upstage in the first week of April. It will be priced at $149.99 with a new 2-year contract. Sprint looks to be betting big on the Upstage and will be aggressively marketing it.
---