Handspring and partners announce email strategy for Treo 600
Jul 14 2003 - 03:16 PM ET | Handspring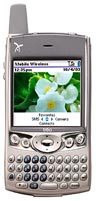 Handspring is partnering with several leading email providers to offer Treo 600 optimized wireless email solutions.
Good Technology - promises to bring GoodLink 2.0 to the Treo 600. It brings cradle-free, real-time synchronization for Microsoft Exchange to the device.
SEVEN - will offer Treo 600 users secure, real-time, over-the-air access to their Microsoft Exchange, Lotus Domino, IMAP and POP email, PIM information and documents. More notably, their software will be the default email client on all Treo 600 devices sold by Sprint PCS.
Visto - will offer Visto Mobile Access Solution Server Edition, which will provide departmental and enterprise access to corporate email without the need for a desktop computer.
These agreements seem redundant, but having options makes the Treo 600 even more appealing to consumers. There is still no hard launch time for the highly anticipated devices, but look for late fall delivery.
---