Nokia debuts 2 new phones
Aug 27 2003 - 08:14 AM ET | Nokia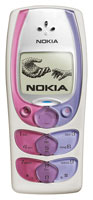 Nokia introduced two new phones at a simultaneous press events in Moscow, Russia and New Delhi, India.
Nokia 1100
Nokia 1100 phone is a lower-end phone that's made to be portable. It weighs just 93 grams and sports anti-slip sides. Like the Nokia 5100, the 1100 has an onboard LED flashlight.
Nokia 2300
The Nokia 2300 is another entry-level phone, but is more trendy than the 1100. Its got an easy to change shell, polyphonic ringtones, and an FM radio. This is the phone seen at right. With these new entry-level products, Nokia is gunning to expand its market share into markets with a relatively low cellular penetration. Look for both of these models in Q4 for the Asia Pacific market. The 2300 should also for Europe, Africa and Middle-East in Q1 04. Pricing is not known.
---