Motorola intros 3 new phones [video]
Feb 06 2004 - 11:26 AM ET | Motorola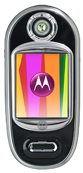 Motorola has announced 3 new phones for World / Europe / Asia release. Although Motorola is the #2 handset maker in the world, its market share is down in Europe. The new models are an attempt to gain back some of the lost ground. The V80 is targeted at the power user market, while the V220 and V180 are low-cost but still stylish.
V80
- Aimed at the Europe / Asia markets in Q2 2004. Swivel-style design with "rotating cover that opens at the touch of a button". Large display, MP3 ringtones, Bluetooth, VGA camera. This phone is shown at right.
V220
- Clamshell, color screen, camera. Available summer 2004.
V180
- Clamshell, color screen, changeable covers. Available summer 2004. The V80 should cost around $300 US before carrier discounts. The V220 and V180 could be as cheap as $50 after carrier discounts. You can see the V80's unique auto-swivel feature in action by
watching our video
[Right click and download to disk. It's < 1MB]. You will need
QuickTime
.
---