Motorola intros E680, E398 and C650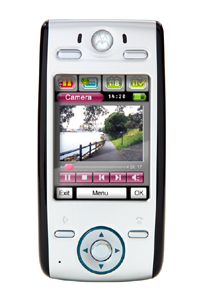 Motorola today introduced three new bar-style mobile phones. All are called "music phones" and include content made by MTV.
C650
bq. MP3 ringtones, integrated VGA 4X zoom camera, 65K color display, MPEG4 video playback, downloadable Java games and multimedia messaging. Available in second half of 2004.
E398
bq. Integrated MP3 player, camera with flash, Bluetooth SanDisk removable memory and dual stereo surround sound speakers. A feature we haven't seen before called rhythm lights is the on Motorola E398: "rhythm lights that interact with Java games, ringtones, caller ID and ambient noise." Available 2nd half 2004.
E680
bq. Color touchscreen, SD card slot (up to a GB of storage), Bluetooth, MP3 playback, VGA resolution camera, MPEG4/RealPlayer video, Java, 3D graphics, stereo speakers. Available 2nd half 2004. The Motorola E680 is shown at right.
---