Treo 650 officially announced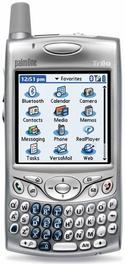 As
expected
, palmOne has officially announced the Treo 650 smartphone. It's the replacement to the smash hit Treo 600, and adds quite a bit: * Improved 320 x 320 display (Vs. 160 x 160) * 312MHz Intel processor (vs. 144Mhz TI chip) * Non-volatile memory and removable battery * Bluetooth * Improved backlit QWERTY keyboard * MP3 player * Exchange support The camera remained at VGA resolution, despite some rumor reports having it going to a megapixel design. Memory also stays at 32MB, though there is an SD card for expansion. Like the Treo 600, the Treo 650 will be available in both CDMA and GSM models. Because of this it is likely to make it to all major US carriers besides Nextel. The GSM model supports EDGE high-speed data. Carrier availability is expected to begin later this year in the United States, with worldwide rollout to follow in 2005.
Visit
palmOne for more information.
Click on thumbnail at right to enlarge.
---