Sidekick II officially announced
Aug 04 2004 - 03:45 AM ET | Danger, T-Mobile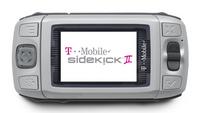 T-Mobile has officially announced the Sidekick II (Yes, they use roman numerals and the full technical name is the Sidekick II PV-100). The details confirm what we said in our
rumor wrap up
earlier this week: it's at the X Games. It will launch in the, "Early fall" though no exact date is given. GigaOm gave a
few
more details about the release. Here are some specs: * About 25% smaller than the original Sidekick * VGA camera * Page up/down buttons * 32MB RAM * Up to 2,000 contacts * Real music ringtones * Syncing software should be announced in the near future so you can sync with your computer (though it may cost extra) You should be able to snag the new Sidekick from T-Mobile for $299. MSNBC has a
very positive
review.
Click on image to view full size. A copy of the press release is providedh after the jump.
T-Mobile USA Flips the Lid Open on the T-Mobile Sidekick II
Building on Success of first Sidekick™, Marquee Device Features Slimmer Design, Integrated Camera and Built-In Speakerphone, Some of the Many Upgraded Features
HOLLYWOOD, Calif. -- August 4, 2004 – Some of the biggest names in sports and entertainment will be walking the red carpet here tonight. But the brightest spotlight will be squarely focused on the biggest star -- the T-Mobile® Sidekick II – successor to the original hit of Hollywood and action sports stars – the original Sidekick from T-Mobile. One of the most highly anticipated sequels to hit Hollywood this year, the T-Mobile Sidekick II will be making its debut at an exclusive, VIP party featuring a performance from The Black Eyed Peas. In conjunction with the beginning of the ESPN X Games X, this star-studded event will feature celebrity Sidekick fans from sports, television and film and musicians from all over. The public will be able to get its hands on the T-Mobile Sidekick II this fall. "I can't live without my Sidekick," said skateboarding icon Tony Hawk. "I take it everywhere with me. It allows me to answer emails as they come in instead of coming home to 100 different messages." The T-Mobile Sidekick II went through a low-carb diet and is 25 percent slimmer than the popular original model. At the same time, it added muscle with a fully integrated camera, and flash, to capture those you-had-to-be there moments; enhanced phone sound quality and functionality such as a speakerphone; and enhanced battery life to give customers approximately 4.5 hours of talk time. A style makeover for this lean, mean machine makes it easy for anyone to personalize and accessorize.
Personalize
* HiFi Ringers – Get ringtones based on the straight-up, full-on actual recorded songs from top artists. Everything from hip-hop and rock to classic soul. * Voice Ringers – Download voice messages from music artists and celebrities who announce incoming calls. * Cool New Games – Download the latest games for fun anytime, anywhere. * Contacts – Keep up to 2,000 of your personal contacts in your pocket, so your friends are always a phone call, email, or instant message away.
Accessorize
* Color Bumpers -- Complement any look in a wardrobe with seven interchangeable (purchased separately) color bumpers; perfect to properly accessorize for a night on the town or a day at the beach. The distinctive signature color screen swivels open to showcase a full QWERTY keyboard, the perfect complement for the T-Mobile Sidekick II's email and instant messaging capabilities. T- Mobile Sidekick II owners get their own email account and can set up as many as three external accounts to deliver email directly to their inbox. Yahoo!® Messenger is now available for download to the T-Mobile Sidekick II, in addition to the fully integrated version of AOL® Instant Messenger™ (AIM®) service, meaning users can IM their friends at the same time they're surfing the Web to find that perfect place to hook up tonight. "Without the T-Mobile Sidekick, I wouldn't know how to function on a day-to-day basis," says popular actor and recording artist Nick Cannon. "It keeps the business tight." "The T-Mobile Sidekick II makes a great device even better by enhancing the experience people loved with the original Sidekick. The new version adds more IM options, new phone capability and a built-in camera with flash, so now more than ever it's the ultimate communication device," said John Clelland, senior vice president of segment marketing for T-Mobile USA, Inc. "It seems everyone is excited about the T-Mobile Sidekick II, making it a must-have device." The T-Mobile Sidekick II, based on Danger, Inc.'s hiptop® Wireless Solution, is planned to be available this fall through T-Mobile at T-Mobile retail stores, select national retailers, as well as online at www.t-mobile.com. Along with the launch of the T-Mobile Sidekick II, T-Mobile and Danger plan to introduce software that will allow Sidekick customers to wirelessly synchronize their desktop contacts and calendar information with their T-Mobile Sidekick. This synchronization software will be available for the T-Mobile Sidekick II and previous Sidekick generations. Price of the software will be announced at a later date.
About T-Mobile USA, Inc.
Based in Bellevue, Wash., T-Mobile USA Inc. is a member of the T-Mobile International group, the mobile telecommunications subsidiary of Deutsche Telekom AG (NYSE: DT). T-Mobile operates the largest GSM/GPRS 1900 voice and data network in the country, reaching over 253 million people including roaming and other agreements. In addition, T-Mobile operates the largest carrier owned Wi-Fi (802.11b) wireless broadband network in the country, available in more than 4,700 public access locations including Starbucks coffeehouses, Borders Books and Music, FedEx Kinko's Office and Print Centers, Hyatt Hotels and Resorts, airports and select American Airlines Admirals Clubs, Delta Air Lines Crown Rooms, United Airlines Red Carpet Clubs and US Airways Clubs. Through its Get More® promise, T-Mobile provides customers with more minutes, more features and more service. For more information, visit the company Web site at www.t-mobile.com.
About Danger, Inc.
Danger's award-winning hiptop® Wireless Solution enables wireless operators to quickly and economically deploy new applications and services to consumers over next-generation data networks. This solution includes: the hiptop® Service Delivery Engine—a suite of server-based infrastructure software, which is currently hosted as a service for wireless operators; the hiptop® Development Platform—a platform for the development of mobile applications using industry standard development tools; and hiptop® device designs—hardware designs for wireless all-in-one devices, which may be customized and branded by wireless operators. Additional information about the company is available at www.danger.com.
---