Upcoming US phones
We've mentioned a ton of new phones for the US lately, so many that its hard to keep track of what's coming when. Below we have an exclusive look at all the dirt on the phones you ask about. If you have anything to add, please send it to
news@mobiletracker.net
. Currently the report has information on the following phones: Motorola A630, Motorola MPx, Motorola MPx220, Motorola V220, Motorola V551, Motorola V710, NEC 535, Nokia 6620, Nokia 6230, Nokia 7610, Nokia N-Gage, Treo 610, Sony Ericsson K700 / K700i, and Sidekick 2.
All data below is subject to change because of its rumor status. Most information is on GSM mobile phones (only exception being the Motorola V710 because of popular demand). We may do a future report for CDMA. If you have information/comments on any of the phones below, please email news@mobiletracker.net
Because of the length of this piece, here are direct links to each phone mentioned: *
Motorola A630
*
Motorola MPx
*
Motorola MPx220
*
Motorola V220
*
Motorola V551
*
Motorola V710
*
NEC 535
*
Nokia 6620
*
Nokia 6230
*
Nokia 7610
*
Nokia N-Gage QD
*
Samsung e316/e317
*
Sidekick 2
*
Sony Ericsson K700 and K700i
*
Treo 610/Ace
---
Motorola A630
The
Motorola A630
was announced last month at an exclusive party chocked full of celebs. Everyone that wasn't invited to the party should be able to snag an A630 from Cingular or T-Mobile in the next few months. The A630 stands out because of its built in QWERTY keyboard that appears when the phone flips open. We have more information on the A630
here
. Various reports cite T-Mobile launching the A630 in September. The first reports on the A630 noted that it would first launch on Cingular. That being said, we're unsure that this will be the case. [
Back to top
]
Motorola MPx
Despite being announced quite some time ago, we're sorry to say that the
Motorola MPx
has been delayed until 2005. But since it will cost a pretty penny when it finally ships, you'll have time to save up the cash. And at least it fared better than the
MPx100
which was announced the same day as the MPx--it was
cancelled
. [
Back to top
]
Motorola MPx220
Despite rumors that the Motorola MPx220 would launch in February, this phone was actually just
officially announced
last week. Not that it was a secret, reviews of the phone showed up in 2003. This is one of only a few of Microsoft powered phones that consumers can purchase. The benefits are being able to tie in with your Windows based computer, but some have knocked the OS as buggy. The MPx220 should launch in October on Cingular and AT&T Wireless, though AT&T Wireless may launch the phone later. AT&T Wireless was the exclusive carrier of the MPx200. [
Back to top
]
Motorola V220
The Motorola V220 is a lower-end clamshell with a VGA camera. It should be available from Cingular starting in late August or September. The V220 is
very similar
to the V400. [
Back to top
]
Motorola V551
The
Motorola V551
was just recently announced, but rumors are already flying about when it will ship. The V551 should be a Cingular exclusive in the US and since Cingular just
dropped the Motorola V600
, this phone suddenly got a lot more important. The V551 has all the features of the V600 but includes EDGE. It could be shipping on Cingular as soon as October. [
Back to top
]
Motorola V710
The Motorola V710 has had very high interest because it is the first phone on Verizon Wireless with Bluetooth. Since its
approval
we have gotten email after email asking when this device will ship. It is
already for sale
at some Radio Shack outlets and should be shipping directly from Verizon Wireless stores starting in the first half of August. [
Back to top
]
NEC 535
The NEC 535 was
featured
in the latest issue of
Wired
magazine. The article made it sound like the phone was already shipping from AT&T Wireless which sent off our spider sense. We expect to see this phone within the next month. The keystone feature is a megapixel camera and large screen. The phone should cost $350 after contract. [
Back to top
]
Nokia 6620
The Nokia 6620 will be carried by AT&T Wireless and Cingular. The phone is basically a Nokia 6600 with EDGE and GSM 800. Multiple reports put this phone as shipping from at least one carrier in August. Seemingly confirming these reports is news that you can already
purchase the Nokia 6620 from
Amazon.com for AT&T Wireless.
Update: 7/6/2004
The Nokia 6620 is
now available
at AT&T Wireless stores. [
Back to top
]
Nokia 6230
The Nokia 6230 will be carried by Cingular only. Features of the techy handset include EDGE, Bluetooth, 40MB memory and VGA camera. The phone is being advertised now in some markets--MobileTracker has obtained a scan of a Sunday insert from Cingular with the Nokia 6230 pictured (it is shown below). If your market does not yet have the 6230, give it a few weeks--it should be national in late August.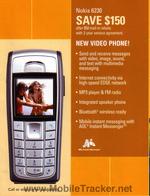 [
Back to top
]
Nokia 7610
As of right now we believe that the Nokia 7610 will first launch on Cingular. It could launch on AT&T Wireless after Cingular, but nothing is set in stone. We have heard that it could be launching as soon as August, but we wouldn't be surprised if it launches as late as October/November. It will be expensive, but exact pricing is unknown. Currently the Nokia 7610 selling for upwards of $400 on eBay. Features include Bluetooth, a megapixel camera and use of the Lifeblog application. [
Back to top
]
Nokia N-Gage QD
Now shipping from channels like Electronics Boutique and Wal-Mart, but not from a carrier. Should be shipping from Cingular and T-Mobile in August. We have seen the N-Gage in a Cingular Sunday insert so you may be able to get it today (a scan of the insert is shown below). Pricing should be $99 with contract from either carrier. Without contract the device will cost you $199. The N-Gage QD is of course the second edition of Nokia's hybrid phone / gaming device. MobileTracker will be posting an exclusive review of the N-Gage QD soon.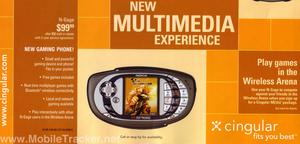 [
Back to top
]
Samsung e316/e317
Despite the naming difference, both the Samsung e316 and e317 are the same phone. Each offer a VGA camera, dual color displays and Java. These phones will be carried on AT&T Wireless and Cingular. The e316 will launch on AT&T Wireless in August--you can
pre-order at Amazon.com
(free after rebate). The e317 should launch on Cingular in October. We have also heard that select Best Buy stores are already currently stocking the e316, but our local stores were not.
Update 8/5/04:
We have spotted the e316 at a local AT&T Wireless company store. The cost is $199 after contract and rebates. [
Back to top
]
Sidekick 2
Rumors of the Sidekick 2 got a jump start when Newsweek recently
ran a short blurb
on it. Because of this and T-Mobile's sponsorship of the upcoming X Games (an extreme sports competition), we expect to see the Sidekick 2 announced in the first week of August. The X Games run August 5th through August 8th. If the Sidekick 2 does not debut at the X Games, it should still appear and ship before the holiday shopping season. New features for the still unannounced Sidekick 2 include a camera, updated design and USB port.
Sharp will be making
the device.
Update 8/4/2004:
The
Sidekick II
was officially announced at the X Games. It will start to ship in "Early Fall". [
Back to top
]
Sony Ericsson K700 and K700i
The Sony Ericsson K700 is the replacement to the T630, a phone we're just now getting in the US. So in all likelihood it will be awhile before this unit is seen on a major carrier in the states. Chinatown in NYC seems to be the easiest way to get ahold of one. No accurate information could be found about when or if the K700 will be picked up in the US. [
Back to top
]
Treo 610 / Ace
The Treo 610 (or as some say it will be called, Treo Ace) is another long rumored device. According to the earliest reports it should have been shipping by now, but technically it still hasn't been announced. Features are said to include a bigger screen, better camera and more memory. It's our belief that PalmOne will try get the Treo 610 out before the holidays, with late October being a good target. Some tipsters claim that it will launch first on Sprint PCS. [
Back to top
]
---