Motorola to extend RAZR line, report
Jan 20 2005 - 10:01 PM ET | Motorola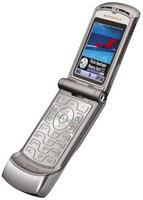 BusinessWeek
dropped a
bombshell
: Motorola plans to extend the RAZR V3 mobile phone into a line of high-end devices. Besides other colors, there will be a candy bar form factor of the RAZR called the Sliver. Comparisons to the Apple iPod will surely be made: the iPod mini comes in various colors and Apple has iPods in three major form factors. The Motorola RAZR V3 also hits the same design nerve as Apple's popular music player. Information is still vague, but Motorola should announce the expanded product line later this year.
The fast selling super-thin handset has blown away all projections with an estimated 750,000 units sold to date. All this for a device
announced
in late July 2004. At $499 per phone, the RAZR has generated over $370 million in revenue (Ed. note: Motorola has not announced the unit price its selling the V3 for, $499 is the market price). Motorola credited the RAZR for a boost in its healthy
Q4 earnings
statement.
---