Motorola RAZR V3m launches on Verizon Wireless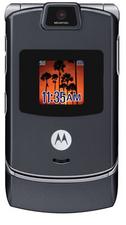 Verizon Wireless has quietly introduced the Motorola RAZR V3m, a minor update to the popular RAZR V3c. The RAZR V3m adds two features to the V3c, a memory card slot and music player (m = music).
Features of the handset include:
1.3 megapixel camera
EV-DO highspeed data
Bluetooth
Trademark

RAZR

design
Verizon Wireless is charging $149.99 for the Motorola RAZR V3m. The V3c is currently still carried, selling for $99.99.
---