Motorola to release RAZR tattoos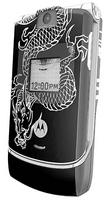 Motorola isn't done accessorizing the RAZR--the company will soon start shipping laser-etched (AKA tattooed) RAZR handsets. The artwork was designed by Ami James, best known from the TV show Miami Ink.
Motorola first got the idea for tattoos after the pink RAZR outsold all expectations. Since that time several other colors have shipped, but the pink model continues to sell well. There should be several tattoo designs, but the design shown at right is the only one that has been shown off.
Look for tattooed RAZRs starting next month. No word if the new KRZR or RIZR handsets will also go under the needle.
---