BlackBerry 7100g status update
UPDATE: Cingular BlackBerry 7100g now available for just $149.99!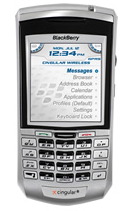 Several
MobileTracker
readers have emailed recently to ask where the
BlackBerry 7100g
went. Cingular Wireless
announced
the 7100g would ship starting on February 14th and on that date the 7100g showed up online. About a day later the 7100g disappeared from the online store and since that time customers trying to buy the device via telesales have been giving different answers to why they don't have it. A media contact at Cingular confirmed to
MobileTracker
that the 7100g is alive an well at Cingular, but only for the business channel: bq. There are no issues with the BlackBerry 7100g. The go-to-market strategy was to first offer the 7100g to enterprise-grade customers through our B2B direct sales force. So it is in stock and continues to be sold--even as we speak--through that direct B2B sales channel. The device was not intended to show up on the online store, hence its hasty removal without explanation. As for when it should make it back onto the store, Cingular said, "Later this year once we get into the second phase of the rollout." Business customers can order the BlackBerry 7100g by calling 1-866-4CWSB2B.
---