BlackBerry 7100g selling to consumers
UPDATE: Cingular BlackBerry 7100g now available for just $149.99!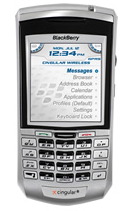 Cingular Wireless has added the BlackBerry 7100g to its consumer line of phones. Prior to today it was only available through business channels. The 7100g is Cingular's version of the 7100 series (T-Mobile USA has the
7100t
). Cingular is charging $199 after rebate, the same as T-Mobile. Unlike all other BlackBerry models, the 7100 series is designed without a QWERTY keyboard. Research In Motion built a predictive text technology called SureType to allow fast typing without dedicated keys for every letter. Other features of the 7100g include: * 240×260 pixel display with 65,000 colors * Bluetooth * Speakerphone While Cingular originally planned launched the BlackBerry 7100g to just business users, the device was accidently placed on the consumer website. When Cingular pulled the 7100g from the website, it set off speculation that there was a major bug in the device. For more information on what happened, read our
full report
.
---