LG VX9800 specs leak from FCC
UPDATE:
The
LG VX9800 has been announced by Verizon Wireless
and it will begin shipping on October 1st 2005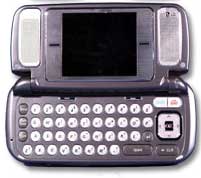 Photos and specifications surrounding the LG VX9800 have been
made public
by the FCC. The VX9800 appears to be very similar to the
Motorola A630
and LG's own
F9100
. Features include: * Full QWERTY keyboard * EV-DO high-speed data * 320x256 pixel screen * 1.3 megapixel camera with flash * Mini SD Just like the Motorola A630, the VX9800 sports a numeric keypad on the front of the phone. The body of the phone flips open to reveal a larger screen and QWERTY keyboard.
---