LG VX9800 reviewed
UPDATE: Verizon Wireless has announced that the LG VX9800 will begin shipping on October 1st.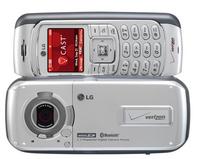 Gizmodo posted a mini-review of the upcoming LG VX9800, a CDMA Motorola A630 look-alike. The phone was recently shown off at the MTV VMA awards, but the FCC had it even before the rock stars. The review points out that the phone is a bit on the large side, but that helps because the keboard is also big.
Features of the VX9800 are impressive for not being a smartphone:
EV-DO high-speed data
Built in

QWERTY

keyboard
miniSD
1.3 megapixel camera
Look for the LG VX9800 on Verizon Wireless starting towards the end of the month. Pricing hasn't been announced.
---