Verizon Wireless Treo 650s start to arrive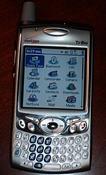 Select Verizon Wireless business customers that ordered the Treo 650 recently have reported receiving the device. Photos can be seen
here
, with the Verizon branding clearly visible. Pricing appears to be: * $529.99 - No nontract * $449.99 - 1-year contract * $399.99 - 2-year contract There are many reports that the Verizon Wireless Treo 650 for consumers will launch in about two weeks.
Last month
Verizon Wireless posted a teaser page for the Treo 650, officially signaling that the launch was near.
MobileTracker has both a review of the Treo 650 and a list of the top 10 accessories.
---