Palm Treo 700p launches on Verizon Wireless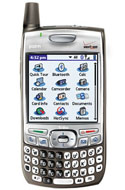 Verizon Wireless has launched the Palm Treo 700p, beating Sprint to the launch. When the device was announced last week, Sprint said it would be first carrier to launch it. So for at least a few days, Verizon Wireless currently has an exclusive on both the Treo 700w and 700p.
Features of the 700p include:
EV-DO highspeed data with built-in

DUN

support
128MB memory, 60MB available to user
SD/SDIO card slot
1.3 megapixel camera
Bluetooth
320 × 320 touchscreen with 65K colors
Palm OS 5.4.9
Verizon Wireless is selling the 700p for $499 after a 2-year service agreement ($549.99 with a 1-year). Both are currently only available online. Sprint is expected to launch the 700p soon at $399.
---