Possible Treo 700p info leaks
Interesting information about the Palm Treo 700p showed up this week in a TreoCentral forum thread. The 700p hasn't been announced, but is rumored to be a Palm OS powered smartphone similar in features to the 700w. The thread includes a scanned document purporting to have launch information about the device (shown below, click on image to zoom).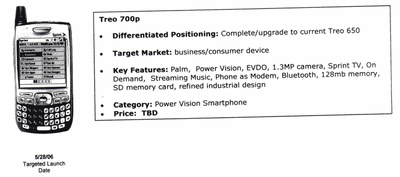 May 28th is the target launch date according to the scan, but launch dates have a way of changing in this industry. The unit is designed for Sprint, which isn't surprising. Features include PowerVision (AKA EV-DO high-speed data), 1.3 megapixel camera, Bluetooth, DUN tethering capabilities and an SD card slot.
Given the rumored target release date, we might see a Treo 700p announcement at CTIA next month.
[via EngadgetMobile]
---