Samsung P207 Review
By Jon Gales -- The Samsung P207 is a jet-black clamshell now available from Cingular Wireless. Despite the consumer level price ($99), the P207 is able to pack in a very nice screen and an interesting speech-to-text technology that we were anxious to try out. Read on for the full review, including a video summary that has a demo of the speech-to-text feature.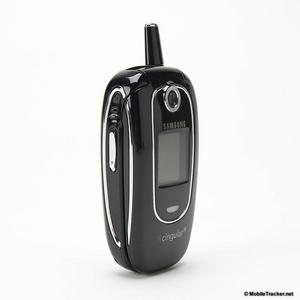 Samsung P207 specs
* GSM 850 / 1800 / 1900 * *Weight:* 3.20 oz * *Size:* 3.40x1.8x.95" * *Screen:* 176x220 pixels with 262K colors * *Ringtones:* MP3 * *Camera:* VGA * *Data:* EDGE
Speech-to-text
Back in January Samsung announced a new speech-to-text technology that sounded very interesting.The Samsung P207 is one of the first handsets equipped with this tech (another being the Samsung a890). Upon opening the box, the speech feature was the first thing I attempted to use. Before using the voice control features for the first time, a little training is required. It involves saying 122 words that appear on the screen in succession. You can further train the phone if you find that it isn't picking up your voice well (or if you give the person to another phone you can entirely replace the training). The phone can recognize more than 122 words, that is just what it trains with.
Editor's note: The voice software that came on the Samsung P207 was made by VoiceSignal Technologies. It doesn't appear to be limited to Samsung phones, so it's possible you will see it start to ship from other device manufacturers.
Overall the voice features were impressive, but I'm not sure if I would use them on an ongoing basis. It was great for demos, but a little too tedious for normal use. However, I am a pretty fast typist with predictive text, so your results may vary. If you can't type very fast the voice technology may really speed up your results. Besides aiding in typing text messages, the voice technology can open applications, call contacts and check the status of things like signal or battery level. I didn't find anything other than the text message and call features useful--it's faster to just look at the screen or use the menu--but I believe they were there for the visually impaired. The voice dialing feature was interesting because it can either take a name (without prior training) or a number.
Voice Quality
The Samsung P207 performed admirably on voice quality tests. I have decent Cingular coverage around my home, but even in weaker areas calls were clear. People I talked to reported good sound quality on their end. However, like always call quality depends on your local area. The P207 does not have a speakerphone which is a disappointment. Since it doesn't have Bluetooth either, your choices for talking on the phone handsfree are limited to a wired headset (and even then, a specialized one since it lacks the standard jack--more on that later).
Design
The Samsung P207 is one of the more stylish phones around, especially from Samsung (95% of their phones are the same silver color.) I got lots of second looks and compliments after pulling it out of my pocket. The promo photos don't show how glossy the black really is, but I can assure you it's very glossy. While stylish, the glossy finish also causes some trouble because it shows smudges very easy. Take a look at the photos and video below to get an idea for what I'm talking about. Size wise the P207 is very trim. It weighs just 3.2 ounces and measures 3.4" x 1.8" x 0.9". Even with the low weight it's able to still feel sturdy. The hinge mechenism is fluid and not too loose. It's got a great feel overall, I loved the design.
Screen
The screen of the P207 is very nice, especially for the price point (I have used many more expensive phones with screens that don't even come close to matching the P207's) and size. Technically, the main display is 176 x 220 pixels with 262K colors. The external display has 65K colors and is equally impressive. I don't know why this screen is in a phone at the $99 --it easily beats the screens on Series 60 phones that are priced three times that.
Camera
The VGA camera works well, but without Bluetooth or a memory card slot you'll have to pay to get the images off. I was working on a pre-paid SIM and it wouldn't allow me to transfer images from the phone, so I don't have any example shots. The external screen works really well for self portraits--with 65,000 colors and a decent size the display does a much better job than the cheesy circular mirrors that are common on camera phones. Two gripes about the camera: # The shutter sound cannot be turned off. This is a Samsung thing, but it's still annoying. The shutter sounds are both loud and overly dramatic (the default sound makes it sound like an old fashioned camera). The idea is that you won't be able to take pictures of people secretly, but in practice the sound is just annoying. Regular digital cameras don't make this much noise and are probably much more common with perverts. # The camera button is able to function when the phone is folded closed (for self portraits), but that led to a few pocket shots. It would be better if it wasn't active when the phone was closed and to take self portraits you first had to activate the camera while the phone was open and then close it. This could lead to a few drained batteries.
Battery life
Under normal use conditions you'll probably have to charge the Samsung P207 every three to four days. The speech-to-text technology takes a bit more juice, but you have to activate it (it's not always listening) so unless you obsessively use it there shouldn't be a big hit to battery life. Even with quite a bit of screen use I was able to go a week with two charges.
Final word
In the end I enjoyed this handset, but would not purchase it for myself. Bluetooth is a dealbreaker for me, especially when there are features like a camera and MP3 ringtones. If there was an updated version made with Bluetooth, it would be a killer mid-tier phone. The display and design are the two selling points to the phone, with the speech-to-text stuff being a bonus. If you're the type that buys a lot of accessories, the P207 might not be the phone for you. Since the P207 doesn't have a standard headset jack, you're going to have to get a headset built specially for it. But if you're after a stylish phone without paying a premium, the P207 might be your jam. If you're looking to buy the P207, I advise getting it online. I don't believe it is available in most of Cingular's retail stores. When I went to my local store to pick up a SIM card for it, they were excited to be able to get a look at it and noted that they had no plans to carry it locally. It's available for $99 after a $50 mail-in rebate.
Photos and video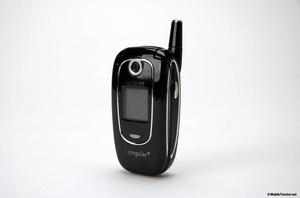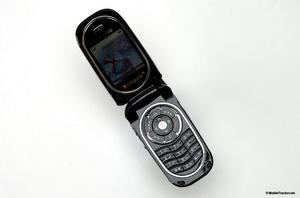 ---