T-Mobile to launch black Sidekick
Sep 14 2005 - 02:10 PM ET | Danger, T-Mobile
UPDATE

:
More info on the black Sidekick has come out officially from T-Mobile.
Read about it here
, including a high-res photo.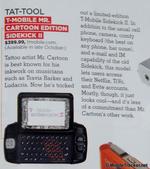 Cargo magazine's latest issue reveals that T-Mobile USA is going to launch a special edition Sidekick II dubbed the "Mr. Cartoon" Edition. The jet black device should be for sale on T-Mobile's website in late October for $399. It appears that the phone's web browser has been updated to work with JavaScript, so a whole host of new sites will now work. Other new features aren't yet known.
This holiday season may be all special editions as Motorola preps the upcoming Maria Sharapova version of the RAZR (it's all pink!) for a holiday release.
Click on the image at right to view full size.
[via Darla Mack]
---