Motorola Q to launch in December
Sep 23 2005 - 07:51 PM ET | Motorola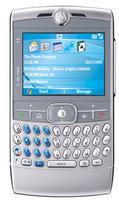 The Motorola Q will ship in December according to CEO Ed Zander. The device was originally slated to ship sometime during the first quarter of 2006, so a December launch would make for an unusual early release. The Q is an attempt by Motorola to gain on the turf currently occupied by the Treo and BlackBerry. With Palm releasing a Windows version of the Treo, the competition between it and the Q will be fierce.
Features of the Motorola Q include:
Windows Mobile 5.0
1.3 megapixel camera
Only .45" thick
It wasn't announced what radio versions the Q will ship in, but it's likely that both CDMA and GSM versions will launch.
See our video of the Q along with a hands-on gallery.
[via MobHappy]
---