Motorola KRZR launch hits record pace
Nov 15 2006 - 04:20 PM ET | Motorola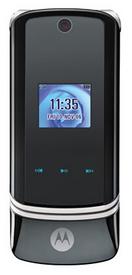 The Motorola KRZR (shown at right) is a brisk seller, outpacing the RAZR out of the gate. Ron Garriques, president of Motorola's handset business, noted that last month was the busiest ever in terms of handset orders. Garriques noted that it would sell more KRZR handsets in the first 120 days than it did of the RAZR. That would mean more than 1.25 million units. The fourth quarter is conventionally a brisk sales period and was the same time that the RAZR began shipments.
However it should be noted that the KRZR is available to many more consumers during that time period than the RAZR was--it comes in both CDMA and GSM configurations. It took over a year for the RAZR to ship in a CDMA varient globally. In the US market CDMA has more market share than GSM which left more than half of US consumers unable to choose a RAZR during the first year of its life. Pricing is also a major difference, the RAZR sold for a premium price ($499 with 2-year contract) when it debuted while the KRZR is selling as a competitively priced mid-tier feature phone ($199 with 2-year contract).
UPDATE: The Wall Street Journal noted a few awkward moments during Ron Garriques' presentation. The first was while talking about the Motofone, Garriques said that it was simple enough his 70-year old grandmother wanted one. After being questioned by the audience, the 42-year old noted that his grandmother was probably significantly older. Then later the audience "laughed uncomfortably" when the executive hinted that Motorola's donations to PRODUCT RED might help business because customers who are alive, "can be future customers." RED helps combat AIDS in Africa.
---