Motorola introduces MOTOFONE
Jul 25 2006 - 04:20 PM ET | Motorola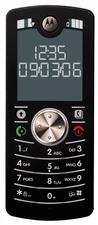 Another day, another new phone from Motorola. The MOTOFONE brings high-end design to an affordable handset aimed at "the next billion users". Besides price point, the MOTOFONE aims to simplify the user experience by relying more on icons and voice prompts than text. The display is specially formulated to perform well in direct sunlight, something that most LCDs balk at.
Features of the MOTOFONE include:
Electrophoretic Display (EPD) dubbed ClearVision that offers high-contrast even in sunlight
Redesigned UI
Available in both

GSM

and

CDMA

Speakerphone
Just 9mm thick
The Motorola FONE should begin shipping in Q4 to markets around the world. The CDMA version will be called MOTOFONE F3c. Motorola claims to have already gotten orders for 500,000 FONE units. The FONE is Motorola's first announced handset of its SCPL line (scalpel). There will be many more in the future and it should replace the RAZR line.

---