Motorola MOTOFONE F3 begins shipping
Nov 28 2006 - 03:16 PM ET | Motorola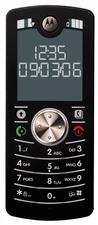 Motorola has started shipments of the MOTOFONE F3, an extremely simple handset aimed at emerging markets. Motorola says the MOTOFONE is designed for, "the next billion users" and has already announced large volume orders for the device. Its most unique feature is an electronic ink screen that uses very little power and is readable in full sunlight.
Despite being low-end, the handset comes in at just 9mm which makes it one of the thinnest cell phones in existence. That figure is even significantly thinner than any other Motorola handset. The interface is also more icon based with local language voice prompts.
The Motorola MOTOFON F3 is available today in India and will hit most other emerging markets soon. The MOTOFONE F3c is the CDMA version and it should be shipping later in the quarter. There have been no plans for a national US launch, but it's possible that a MVNO will pick it up.
---