Motorola Q now shipping from Verizon Wireless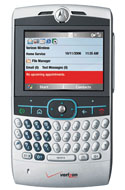 As expected, Verizon Wireless has launched the highly anticipated Motorola Q smartphone. It's the thinnest smartphone in the world and is currently an exclusive of Verizon Wireless.
Features of the Motorola Q include:
Sleek design, 4.6H x 2.5W x 0.45D inches
Bluetooth
Windows Mobile 5.0
EV-DO highspeed data
Speakerphone

QWERTY

keyboard
With a 2-year service agreement, Verizon Wireless is charging just $199 for the Q. The price increases to $349 with a 1-year agreement. In contrast, the Palm Treo 700w costs $399 with a 2-year agreement.
---