Motorola, Sony Ericsson debut new accessories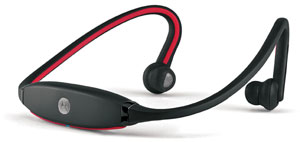 CES 2007 -- Both Motorola and Sony Ericsson debuted new accessories to complement their mobile phones. Though thanks to their Bluetooth underpinnings a phone from the manufacturer isn't required.
Sony Ericsson is showing off the MBR-100, a Bluetooth receiver that makes it easy to play music wirelessly through a conventional hi-fi stereo system. It can connect into an audio system with either RCA or a mini jack. It should ship later in the first quarter.
Motorola announced the Active Headphones S9 (shown right), stereo Bluetooth headphones that have been ruggedized for an ACTV lifestyle (no joke, the 4 letter ACTV moniker was used during Ed Zander's introduction). Using A2DP stereo Bluetooth, the S9 headphones can be used to just listen to music or using the built-in microphone can act as a full wireless headset. The Active Headphones S9 will ship in the first half of the year.
---