Motorola i930 announced by Sprint
Sep 27 2005 - 07:42 AM ET | Motorola
Sprint Nextel has finally announced the Motorola i930, a Windows Mobile based iDEN handset for Nextel service. Motorola has shown off the i930 at trade shows for more than a year without any serious word on when it would come out.
The last time we mentioned the i930 was back in May when it was approved by the FCC.
Features of the i930 include:
Windows Mobile 2003 second edition
Dual mode iDEN/GSM for global roaming
64MB flash memory plus SD card slot
65K color screen
Camera with video recording and flash
Size: 3.5"×1.9"×1.2" with a weight of 5.9 ounces
The Motorola i930 should begin to ship next month for $499.99 before discounts and promotions.
Another photo of the Motorola i930 is available below.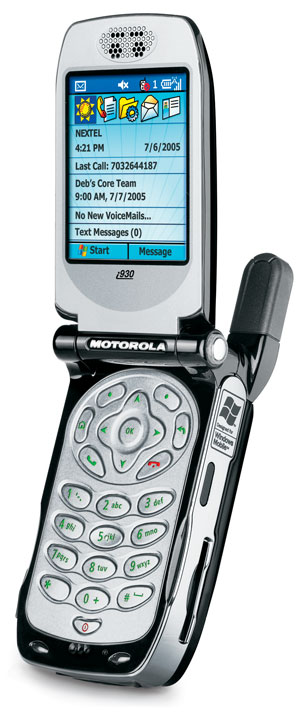 ---