T-Mobile launches BlackBerry 7105t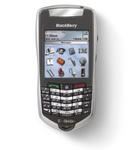 T-Mobile USA today debuted a minor update to the BlackBerry 7100t dubbed the 7105t. The updated version differs only slightly from the original, which was the first device from Research In Motion that didn't have a full QWERTY keyboard (the 7100 series instead uses predictive text technology). Updates include a refined keypad and improved screen. All other existing features are included, among them:
Quad-band

GSM

Bluetooth
Internet and corporate push email acacess
Speakerphone
After rebate, the BlackBerry 7105t is priced at $199.99. The original 7100t is still available for $149.99.
---