BlackBerry 7130e launches from Sprint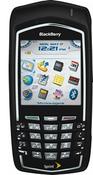 Sprint Nextel has launched the BlackBerry 7130e, one of the latest 3G enabled handsets from Research In Motion. Verizon Wireless has been carrying the handset since November.
Features of the BlackBerry 7130e include:
EV-DO (Sprint Mobile Broadband) with support for tethering
Bluetooth

QWERTY

keyboard with SureType predictive text
Speakerphone
64MB memory
The 7130e is availale now through business channels and should appear on Sprint's online webstore soon. It's selling for $199 after discounts. Sprint also announced that the BlackBerry 7250 is now EV-DO equipped. A software update to enable the technology will be made available to customers that purchased the device prior to May 1st.
---