BlackBerry 7130e with EV-DO on Verizon Wireless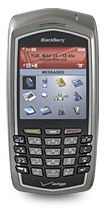 Verizon Wireless today launched the BlackBerry 7130e. It's the first BlackBerry with EV-DO, though Research In Motion is expected to announce more compatible models soon.
Features of the 7130e include:
EV-DO high-speed data with tethered modem capabilities
64MB of memory
SureType predictive text
Bluetooth
The BlackBerry 7130e is available today through business channels and will launch for consumers on December 1st. Expect to pay $299.99 with a two-year service contract.
---