BlackBerry 8703e announced by Verizon Wireless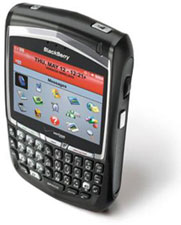 CTIA IT 2006 -- Verizon Wireless and Research In Motion jointly announced the BlackBerry 8703e this morning. The 8703e is essentially a CDMA version of the 8700c which has been shipping on Cingular since last year.
Features of the BlackBerry 8703e include:
EV-DO high-speed data
Bluetooth

LCD

screen automatically adjusts brightness according to ambient light
35-key

QWERTY

keyboard
Verizon Wireless will begin shipping the BlackBerry 8703e on September 17th for $349.99 with a 2-year contract.
---