BlackBerry 7100i launches on Nextel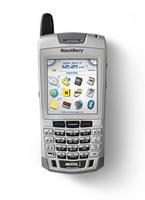 Sprint Nextel toady announced the BlackBerry 7100i for the Nextel National Network. The 7100i is an iDEN version of the popular 7100 series BlackBerry which is already available from T-Mobile and Cingular. Unlike other BlackBerry models, the 7100 series doesn't have a QWERTY keyboard, but uses predictive text.
Features of the BlackBerry 7100i include:
Bluetooth
240×260 color screen
Speakerphone
Walkie talkie
Real time

GPS

64MB flash memory
Push email
Sprint is selling the BlackBerry 7100i for $349.99 before discounts. Look for it next week.
---