ROKR blasted in Wired cover story
Oct 25 2005 - 04:21 PM ET | Motorola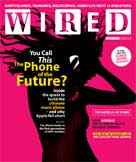 The bashing of Motorola's ROKR phone continues with the November issue of Wired magazine dedicating the cover story to what went wrong with the device. Reviews of the ROKR have been decidingly poor, including our own just last week.
The Wired article lays out several areas of blame, including Apple's unwillingness to compromise along with frustrating carrier negotiations. Several other music phones are also shown off in the article, including the upcoming Nokia N91 which was praised for its large storage capacity (4GB).
Wired hasn't posted the article online yet, but here is an excerpt:
"In the end, what's suprising about the Moto ROKR is not that carriers resisted it but that it is so short on innovation. Instead of creating new possibilities, as the N91 does, the ROKR allows FairPlay to close them off."
Motorola plans on putting iTunes in more upcoming handsets for the US market though specific plans are still only rumors.
---