Motorola ROKR E1 review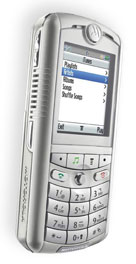 By Jon Gales -- Thanks to the Apple hype machine, Motorola's ROKR E1 was one of the most anticipated mobile phones ever. After 18 months of speculation (ever since it was announced that iTunes would be coming to some Motorola phones) Motorola and Apple debuted the ROKR E1 on the same day as the iPod nano. I've spent a few weeks with the ROKR and found out where it ROKS and where it doesn't.
Besides photos, there is an included video review that shows the ROKR E1 in action.
Last week we took a look at another high profile music phone, the Sony Ericsson W800i.
Specs
Radio

GSM

850/1800/1900
Weight
3.77 oz
Size
4.25" × 1.81" × 0.80"
Memory
5MB built-in plus included 512 microSD card
Screen
176 × 220 pixel 262K color screen
Data

GPRS

Camera

VGA

with

LED

flash
Sync
Bluetooth,

USB

Music
iTunes mobile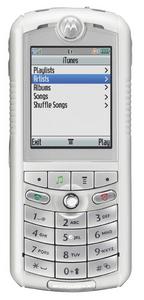 Construction/Design
Mobile phone aficionados will recognize that the Motorola ROKR E1 is simply a retooled E398. It's a bit large, especially if you've used the RAZR or played with the SLVR, but overall it's a pretty usable design. Thanks to the Apple connection, Motorola made the included handsfree earphones and USB sync cable "iPod White" though the actual earphones look quite a bit different than what's included with an iPod.
The buttons are laid out nicely and are easy to see in low-light (thanks to bright backlighting).
Installing the memory card is a bit tricky, but since microSD cards aren't meant to be changed very often this isn't too big of a gripe. As you'll read later on you're not very likely to buy a bigger memory card because it won't help you out in iTunes.
The 176×220 pixel screen looks sharp thanks to having 262K colors. It's also readable in full sunlight which is a must for switching songs on the go.
Reception, Battery life
Radio wise the ROKR E1 performs well. I didn't experience any dropped calls. The voice quality was good on my end and according to people I talked to on the other end as well. Like other music phones, the ROKR E1 has an airplane mode that turns off the radio for use on an airplane or other area that bans cell phones (like hospitals).
The speakerphone is loud thanks to its use of the same speakers used for music playback. I talk about the speakers a bit more in the music section below.
I was able to squeeze out five hours of talk time in a test, which is solid. Motorola claims the ROKR E1 can play music through headphones for 15 hours or through the built-in speakers for 8 hours. I couldn't think of a good way to test this (other than waiting around) so those numbers may or may not be inflated.
OS,

navigation

Users of almost any recent Motorola handset will feel at home in the ROKR E1. People seem to be divided if they like the OS or not, but like any it has both strong and weak points. The default behavior for contacts for example is obtuse--it displays a new entry for every number of every contact (e.g. if I put in your home, office and cell I'll see you three times in the phonebook). That can be changed, but it shouldn't come this way by default.

Another quirk with Motorola's OS is the profile system. I won't go into a whole lot of detail, but it's not very customizable and will work well for some, but leave others confused. My biggest gripe is that to get the phone into silent without making noise takes at least 11 clicks. If you use the volume keys on the side of the handset to get into silent mode you'll make a beep every time you hit the down button. If you were on a high volume this could mean many loud noises which is just unacceptable in a meeting.
Music
iTunes is easy to get to on the ROKR E1 thanks to the iTunes button. There are no other music buttons though, so if you want to play/pause you'll have to enter iTunes. To an iPod user the iTunes mobile interface will look very familiar, except for the font it's basically a clone of the iPod software. A handsfree unit is included with the ROKR E1 in the box that also doubles as stereo headphones. If you want to use your own headphones (which I would suggest as the earbuds won't fit everyone and aren't the most comfortable for anyone) you'll need to use the included adapter to go from 2.5mm to 3.5mm. But if you use your own headphones you'll have to unplug after getting a call because you don't get the built-in mic advantage that the included earphones have.
One of the first things I noticed about the ROKR E1 was that it is very slow when iTunes is playing music. This holds true if you're inside iTunes or if it is hidden. For a phone with music features being so central, this is a fatal flaw. My unit couln't even keep the play time counter working smoothly (see video). When iTunes is playing a song menus are also slow and I easily typed faster than it could keep up with. Navigating through menus is also painful--count on a second or two after you touch a button for it to respond.
Speaking of speed, plan on about an hour to transfer a full load of music onto your ROKR E1 since it's a USB 1 connection. Because it took so long to transfer music I found myself sticking with the music that was already loaded onto the phone and not syncing it as often as I normally would. For example, with my iPod nano, I'm able to transfer 4GB of music in 12 minutes.
I'm happy to report some good news though, the speakers on the ROKR E1 sound amazing. Great quality and even bass (it has a bit of rumble when you hold it). Everyone I showed the E1 off to was impressed by the built-in speakers. The idea of stereo speakers on a device this small should be ridiculous, but they sound great. Of course you'll run through the battery faster using the speakers, but this is one thing that even the iPod cannot do.
Something else that iTunes mobile does that isn't common with other phones is display album art (if it's present in iTunes). Some people really get into album art so this could be a big deal, but it's a wash with me.
A few other gripes about the iTunes player, though these aren't Motorola's fault (thank Apple and the RIAA). There is a firm 100 song limit which means even if you get a bigger memory card you will still be limited to a mere 100 songs. This is even less than Apple advertises for the iPod Shuffle, despite having the same 512MB of storage. The second is that songs you have loaded on through iTunes are not able to function as ringtones, even if they are regular MP3 files. To get an MP3 ringtone you'll have to load the MP3 file onto the memory card or phone memory and then make it a ringtone through a confusing set of menus. It would be great if you could just select a song in iTunes and make it a ringtone.
Camera
The ROKR E1 has a VGA camera which provides shots in similar quality to past Motorola handsets (they have been using VGA camera modules for quite some time). There's not much good I can say about a VGA camera these days, especially for a phone selling for $249.99. It should at least be 1 megapixel. For comparison, the last music phone I used has a 2 megapixel camera. There is an example shot in the photo section.
Data, Messaging
While the manual makes several references to EDGE, the ROKR E1 only has GPRS data. According to Motorola this is because one of the chips in the phone performs poorly with EDGE and the engineers were unable to get it working to acceptable standards, so EDGE had to be turned off. This is the case with several higher-end Motorola phones which is quite unfortunate.
Like other Motorola devices, the ROKR E1 uses iTAP for predictive text. It works well, except when music is playing (see video.) If you've used other predictive text software before, iTAP works the same way. You probably won't even notice the difference.
There's an email client for POP3 and IMAP4 mail, but I don't get much use out of mobile email when it's not push.
On the root menu level is an IM application with support for AIM, ICQ and Yahoo! Messenger. Unlike email, IM works well for a standard mobile device since it's natively push. It works well and if you're an IM user it's a really handy app. Watch out though since IMs count as SMS messages and will be charged accordingly. If you have a big text plan this is nothing to worry about, but getting a big bill after the first month is no fun.
Syncing
As I noted above, syncing with iTunes is easy but not fast. That doesn't matter for other data to sync (Contacts and what not) which can be synced either by USB or Bluetooth. Interestingly enough in iSync (Mac only), the ROKR E1 comes up as the ROKR E790 which was the rumored name of the device. It was able to sync over contacts and calendar information.
Conclusion
The biggest thing the Motorola ROKR E1 has going for it is the carrier deal with Cingular. Feature wise it just doesn't innovate. Overall the device isn't polished, from a USB 1 connection to extremely slow performance. Using the ROKR made me appreciate my iPod more than I did before, it is a thought out device that not only innovates but executes.
There is no compelling reason to use the ROKR E1 over a good [regular] phone and a separate music player unless you really cannot stand using multiple devices. You can get a RAZR from Amazon.com for free and snag a 512MB iPod Shuffle for $99 (or the new nano for $249 and have oodles of space). In fact, even if I bought a ROKR, I would still use an iPod to play music because it simply gives a superior music playing experience.
Photos
Click on each photo to view in full size.
Video
Catch a peek at the ROKR in action and get a good look at the obvious lag problems it has. Music in the video is live from the ROKR (played through the stereo speakers as the phone wasn't wanting to output directly to the camera for whatever reason). QuickTime is required to play the video.
---