Motorola V325 on Verizon Wireless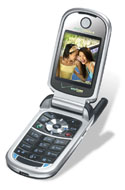 Verizon Wireless has launched the Motorola V325, an entry-level handset that's similar to the V265 that Verizon already carried. Even though the handsets are very similar, the V265 doesn't appear to be discontinued.
Features fo the V325 include:
176 × 220 pixel 65K color screen

VGA

Camera

BREW
The Motorola V325 is available now and costs $79.99 after contract.
---