scanR demos whiteboard to PDF service
Jan 05 2006 - 02:47 PM ET | Backpage, CES, Data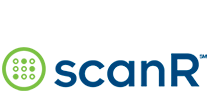 CES 2006 - We caught up with a neat still in pre-launch mode company called scanR last night. They specialize in making camera phones work for business users. Until now about all a camera phone could be used for in the enterprise is steal the other guy's secrets, which doesn't go over too well when you get busted.
scanR's first service takes an image of a whiteboard, sends it over the internet to their servers, and then emails both you and (if you'd like) others a PDF. What's cool is the PDF looks a lot better than the original image because scanR's software has cleaned it up to make it more readable. The demo last night looked slick and was powered by the new Treo 700w. To try it out yourself you'll need a camera phone with at least a megapixel camera.
There is some software available for the Treo 700w that makes the process a bit easier and it costs $19.95 per year. There is no charge for use beyond your carrier data charge. If you don't have a new Treo you'll have to use the old fashioned method of sending pics, email.
---