Motorola and Google team up
Jan 06 2006 - 03:24 AM ET | CES, Data, Motorola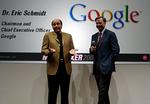 CES 2006 - At a press event Thursday evening dubbed MOTOMIXER, Motorola announced a partnership with Google to make mobile search easier. At least some Motorola handsets should end up shipping with a Google button, but it's not yet known what else will be done to improve the experience.
A Motorola spokesperson noted that we should start to see the effects of the deal later in Q1.
To help with the announcement, Google's CEO Dr. Eric Schmidt joined Motorola's CEO Ed Zander on stage. The two men knew each other from many years back and gently ribbed back and fourth about who had the better luck.
---