Cingular nabs pink Motorola RAZR V3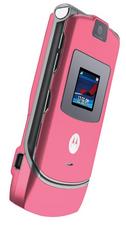 Cingular Wireless has become the third US carrier to pick up a pink Motorola RAZR. However all three are different shades. The Cingular model fits in between the lighter version for Verizon Wireless and the magenta version for T-Mobile USA.
Features remain the same:
Quadband GSM
Thin design
Bluetooth
VGA Camera
The pink RAZR will begin selling from Cingular starting on February 6th for $149.99. Cingular also carries silver and black colored RAZR phones for the same price.
---