Cingular to launch pink SLVR, blue RAZR, more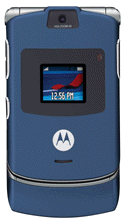 Motorola is busy prepping some new Motorola models according to a product memo passed along to MobileTracker. Motorola's color theme continues, with the launch of two more colored handsets (a pink SLVR and blue RAZR).
The Silver

SLVR

L6 will launch mid to late July, it's currently available only through RadioShack.
A Pink

SLVR

L6 will launch in August
The L2 will launch by the end of this week, price unknown
Cobalt Blue

RAZR

V3 in July. While the Cingular document says Cobalt blue, it's photo is identical to the "Cosmic Blue" version already announced (cosmic blue shown at right, the photo was better quality than the one from Cingular).
In related news, T-Mobile USA is expected to debut the colored Motorola PEBL shortly.
---