Motorla RAZR V3 Blue launched by Cingular

Cingular has become the first US carrier to release Motorola's RAZR V3 in Blue. MobileTracker noted back in April that this was expected. The features remain the same as all other RAZR V3's.
Quadband

GSM

Dimensions: 3.86 × 2.08 × 0.54 inches
Bluetooth

VGA

camera
Cingular is selling the blue RAZR V3 for $99 after a $50 mail-in rebate. It also carries the pink, black and original silver versions of the device.
UPDATE: The photo on Cingular's website (shown at right) looks to show a RAZR V3i, but according to the specs the handset is really a V3.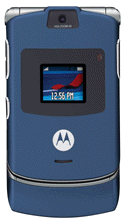 ---