Motorola SLVR L6 launches on Cingular
Apr 03 2006 - 12:23 AM ET | Cingular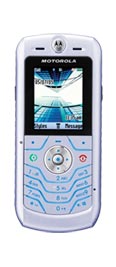 Cingular has started the launch of Motorola's SLVR L6 handset, a more entry-level version of the SLVR L7 that was launched earlier this year. Radio Shack currently has an exclusive on the device and we're not sure when it will hit Cingular stores.
Features of the L6 include:
Slim design, just .41" thick
Bluetooth

VGA

camera
Speakerphone
Radio Shack is selling the Motorola SLVR L6 for $49.99 with contract. In contrast, Cingular charges $199 for the L7.
---