Nokia 9300 Communicator launches on Cingular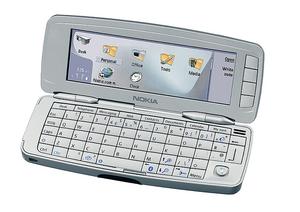 Cingular has officially launched the Nokia 9300 Communicator for direct consumer sales. The carrier has been selling the phone to its business customers since November. The 9300 is one of Nokia's Series-80 devices and has an extensive feature set. Highlights include:
EDGE

high-speed data

QWERTY

keybaord
80MB memory
640×200 screen, 65K colors
Bluetooth
Symbian 0S 7
Blackberry Connect
Cingular is selling the Nokia 9300 for $299.99 after a $50 mail-in rebate. A 2-year contract is required.
Check back soon for a review of the Nokia 9300 on MobileTracker.
[via EngadgetMobile]
---