Bluetooth to include UWB
Mar 28 2006 - 03:30 PM ET | Bluetooth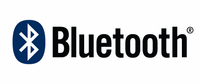 The Bluetooth SIG announced major changes in Bluetooth that should help bring the personal area networking wireless standard into more high bandwidth applications. A future version of Bluetooth will use ultra-wideband (UWB) technology and will be able to transmit at up to 100 megabits per second at a range of 10 feet. Despite the transition to a high-speed technology, Bluetooth SIG remains committed to powering ultra low-power devices such as wireless keyboards and mice.
It is critical that the UWB technology be compatible with Bluetooth radios and maintain the core attributes of Bluetooth wireless technology - low power, low cost, ad-hoc networking, built-in security features, and ability to integrate into mobile devices. Backwards compatibility with the over 500 million Bluetooth devices currently on the market is also an important consideration.
The first chips ready for device prototyping are expected to be delivered in the second quarter of 2007.
---