Nokia 2365i announced
Apr 05 2006 - 08:00 AM ET | CTIA, Nokia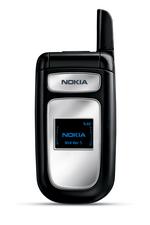 CTIA 2006 -- Nokia revealed a trio of new CDMA handsets this morning, including the 2365i. The 2365i is fairly entry-level, but with some features that differentiate it from the budget phone crowd. It's also another clamshell style handset from Nokia, a company that historically favors the candybar form factor (but thanks to customer feedback has promised more clamshells).
Bluetooth 2.0
FM radio
Real-sound music ringtones (MP3)
128×160 pixel 65K color screen
The Nokia 2365i is a Series 40 handset and is expected to debut in the second half of the year. Nokia's other two CDMA handsets announced this morning are the 2865i and 6126.
---