Nokia 6175i announced
Apr 05 2006 - 08:00 AM ET | CTIA, Nokia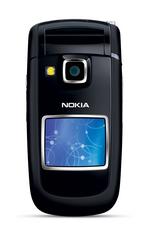 CTIA 2006 -- As part of an introduction of three CDMA handsets, Nokia announced the 6175i this morning. As a CDMA clamshell style handet, the 6175i is a rare combo from GSM/candybar heavy Nokia.
Features of the Nokia 6175i include:
1.3 megapixel camera
Bluetooth
128 × 160 pixel screen with 260K colors
FM radio
The Nokia 6175i is scheduled to ship in the second half of the year.
---