Embarq launches wireless service
Jun 14 2006 - 11:50 AM ET | Sprint Nextel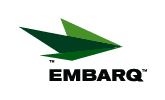 Embarq, Sprint's newly spun-off wireline business, has launched wireless service through a MVNO relationship with Sprint. The company can now provide bundle service packages of wireline, wireless and internet service.
Depending on the plan, Embarq customers will have free calling between their wireless and wireline phones. There's also a feature where any 5 numbers can be called for free, even if they are on other carriers.
Embarq is launching with a limited number of wireless phones, currently entry-level devices from UT Starcom and LG plus the PPC 6700 smartphone.
---