EMBARQ launches unified voicemail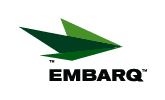 EMBARQ (the new name of Sprint's now indie wireline division) has announced a new feature called One Voicemail. The service integrates wireline and wireless voicemail into one box. EMBARQ is offering wireless service through a MVNO agreement with Sprint.
A key feature of the newly introduced EMBARQ Together Phone PaQ is EMBARQ One Voicemail which allows customers who have both a home phone and wireless phone to retrieve all of their voicemail messages from one mailbox, relieving them from having to check multiple voicemail boxes. Customers are notified on both devices when they have a message and can listen to their messages on either.
---