LG VX3450 ships on Verizon Wireless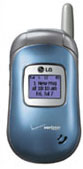 Verizon Wireless has launched the LG VX3450, an entry-level handset that picks up where the LG VX3300 left off. At this time Verizon is still carrying both handsets, but the VX3300 is likely to be phased out in favor of its successor.
Features of the LG VX3450 include:
Speakerphone
128×128 internal display with 65k colors plus 96×64 monochrome external display
Voice activated dialing
Verizon Wireless is selling the LG VX3450 for $29.99 with a 2-year service contract ($79.99 with a 1-year contract). It's available now.
---