Palm Treo 750v introduced for Europe
Sep 12 2006 - 01:22 PM ET | Palm, Vodafone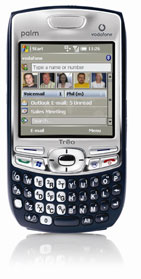 As expected, Palm has unveiled a new Treo model for the European market--the Treo 750v. New environmental legislation required Palm to stop selling previous Treo models. The 750v sports Windows Mobile just like the 700w/700wx in the US. Vodafone will have an exclusive on the device at launch (hence the 'v' label).
Features of the Treo 750v include:
3G

UMTS

high-speed data
Microsoft Windows Mobile 5.0 with Palm enhancements
1.3 megapixel camera
Bluetooth
miniSD card slot
240×240 touch screen
Vodafone will launch the 750v first in Austria, France, Germany, Ireland, Italy, Netherlands, Spain, Switzerland, the UK and other regions by the end of the calendar year. Pricing was not announced.
---